We are proud to announce an important new service level for our customers. From today, we will be faster on-site for your reliability! Yes, in IT most work can be done remotely, but in real emergency cases, customers really appreciate a database expert on-site within the shortest possible time.
Just call our emergency hotline: +49 9633 631
Faster on-site for your reliability!
To improve these capabilities, Performing Databases is proud to present our newest extension to our car pool: A BMW M3. With an unthrottled top speed of more than 250km/h (155mph), we will be there. Whenever and wherever you need us!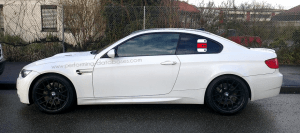 Technical facts
Make: BMW
Model: M3
Generation: E92
Power: 308kW (420PS / 414HP)
Top Speed: >250km/h (>155 mph)
Engine type: V8
Transmission: Manual, 6-speed
Built: 2014
Mileage: 15.000 km (9320 mi)
Thanks everybody who reacted to our April Fool 2016! 🙂